Update On Research For Breast Cancer Prevention – Eliminating common chemicals and replacing good bacteria can offer important Breast Cancer Prevention Strategies
Triclosan
Many chemicals used in everyday household products have never been formally approved by U.S. health regulators. These" germ-killing" chemicals were developed decades ago before there were laws requiring scientific review of cleaning ingredients.
It's a chemical that's been in U.S. households for more than 40 years, from the body wash in your bathroom shower to the knives on your kitchen counter to the bedding in your baby's basinet. Nurses use it more than 50 times daily as it is stationed between rooms in the hospital.
This germ-killing ingredient found in an estimated 75 percent of antibacterial liquid soaps and body washes sold in the U.S. – is ineffective, or worse, harmful. Estrogen Disrupting chemicals, (EDCs) have become ubiquitous in products, in the environment and in our bodies. Research has found that two EDCs — triclosan and octylphenol, which is in some paints, pesticides and plastics — have accumulated in the environment. Additionally, triclosan is reportedly found in the urine of an estimated 75 percent of Americans.
An FDA proposal in 2014 stated, " the record does not currently contain sufficient data to show that there is any additional benefit from the use of consumer antiseptic hand or body wash as compared to non-antibacterial soap and water." This ruling may become final in September, 2016.
In 2014 Minnesota became the first to ban the use of triclosan.  Proctor Gamble, Johnson and Johnson, and Avon have stated they will remove it form their products. This could have implications for a $1 billion industry that includes hundreds of antibacterial products from toothpaste to toys.
The agency's review comes amid growing pressure from lawmakers, consumer advocates and others who are concerned about the safety of triclosan. Recent studies of triclosan in animals have led scientists to worry that it could increase the risk of infertility, early puberty and other hormone-related problems in humans.
"To me it looks like the risks outweigh any benefit associated with these products right now," said Allison Aiello, professor at the University of Michigan's School of Public Health. "At this point, it's just looking like a superfluous chemical."
Triclosan and Breast Cancer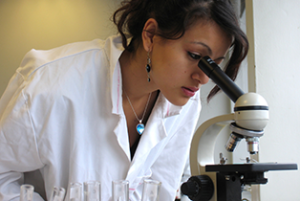 Scientists are reporting new evidence that appears to support these worries. A study, published in the ACS journal Chemical Research in Toxicology, April, 2014, found that both triclosan and octylphenol, promoted the growth of human breast cancer cells in lab dishes and breast cancer tumors in mice. Researchers are investigating whether endocrine-disrupting chemicals (EDCs), which are compounds that act like hormones, might spur cancer.
Researcher, Kyung-Chul Choi and colleagues, note that hormonal imbalances seem to play a role in the development of breast cancer. Given that link, the research team wanted to see what effect the two compounds have on breast cancer cells.
In tests on human breast cancer cells and in special immunodeficient mice with tissue grafts, the scientists found that both agents interfered with genes involved with breast cancer cell growth, resulting in more cancer cells. Mice that were exposed to the two compounds had larger and denser breast cancer tumors than the control group. "Although the doses of EDCs were somewhat high, we did this to simulate their effects of daily exposure, as well as body accumulation due to long-term exposure, simultaneously in animal experiments," said Choi. "Thus, exposure to EDCs may significantly increase the risk of breast cancer development and adversely affect human health," the researchers state in the paper.
What do you use to wash your hands at work? Are there better choices? Do you read ingredients in your products?
The World Within: Our Human Microbiome
Recent research has given us a glimpse into the world of our trillions of bacteria that inhabit us and perform a host of functions including processing nutrients and maintaining a healthy immune response. Now, emerging research, still in its early exploration, is looking at our microbiome and how it may either promote or prevent breast cancer.
By replacing the good bacteria and avoiding unnecessary use of antibiotics in our food chain and in personal use, we can add this information to our list of strategies for preventing breast cancer and promoting health.
The microbiome plays an important role in human physiology. Dysbiosis is the disturbed and imbalanced microbial ecology secondary to external pressures such as host diseases, medications, (like antibiotics), diet and genetic conditions often leading to abnormalities of the host immune system. Specifically, intestinal dysbiosis has been shown to lower circulating lymphocytes, and increase neutrophil to lymphocyte ratio, a finding which has been associated with a decreased survival in women with breast cancers. Dysbiosis also plays a role in the recycling of estrogens via the entero-hepatic circulation, increasing estrogenic potency in the host, which is another leading cause of breast malignancy. Non-modifiable factors such as age and genetic mutations disrupt the microbiome, but modifiable factors such as diet may also lead to profound disruptions as well. A better understanding of dietary factors and how they disrupt the microbiome may lead to beneficial nutritional interventions for breast cancer patients.
Microbial Dysbiosis Is Associated with Human Breast Cancer
One in eight women will be diagnosed with breast cancer in their lifetime. It is the second leading cause of death in women, with >40,000 deaths annually. Despite the $5.5 billion spent on breast cancer research over the past twenty years, the origins of a majority of breast cancer cases (estimated to be as high as 70%) remain unknown .
In a search for understanding how breast cancers arise in order to develop preventative strategies, new research is revealing exciting insights into the prevention and development of breast cancer.
The recent appreciation of the influence of microbiota on human health and disease begs the question of whether microbes play a role in sporadic breast cancers of unknown etiology. Microbes inhabiting the human body outnumber human cells 10:1. Their influence on human health and disease is a new and rapidly expanding area of research. Microbes have been linked to diseases as varied as obesity, colon cancer, and colitis.
This research is demonstrating that both communities of bacteria and discrete bacterial species can exert either pathogenic effects that encourage disease development or probiotic effects that maintain health status. Certain strains of bacteria have been identified in breast tissue.
Researchers analyzed breast microbiota DNA in paired normal tissue and tumor tissue from 20 patients with estrogen receptor (ER)-positive breast cancer. Researchers identified dysbiosis that was associated with breast cancer disease state and severity. They also found that specific bacterial species of microbial DNA present in the breast and the quantity of these bacteria present in breast tissue may play a protective role in breast cancer.
The overuse of antibiotics in the animal food chain and those prescribed to humans could alter our immunity and protective microbiota.
The researchers speculated if a decrease in bacterial load in a healthy individual may be a signal of heightened breast cancer risk.
To read the full research article on Open Access:
Microbial Dysbiosis Is Associated with Human Breast Cancer http://www.plosone.org/article/info%3Adoi%2F10.1371%2Fjournal.pone.0083744#references Caiyun Xuan, Jaime M. Shamonki, Alice Chung, Maggie L. DiNome, Maureen Chung, Peter A. Sieling, Delphine J. Lee
Additional Research:
Bacterial microbiota of human breast tissue
http://www.ncbi.nlm.nih.gov/pubmed/24610844
Evolving Concepts: How Diet and the Intestinal Microbiome Act as Modulators of Breast Malignancy, 2013
Shapira, Sultan K, Lee A, Taioli E ISRN Oncol. 2013 Sep 25;2013:693920. eCollection. http://www.ncbi.nlm.nih.gov/pubmed/24187630
"Progression of Breast Cancer Cells Was Enhanced by Endocrine-Disrupting Chemicals, Triclosan and Octylphenol, via an Estrogen Receptor-Dependent Signaling Pathway in Cellular and Mouse Xenograft Models" in the Journal, Chemical Research in Toxicology.
http://pubs.acs.org/doi/abs/10.1021/tx5000156